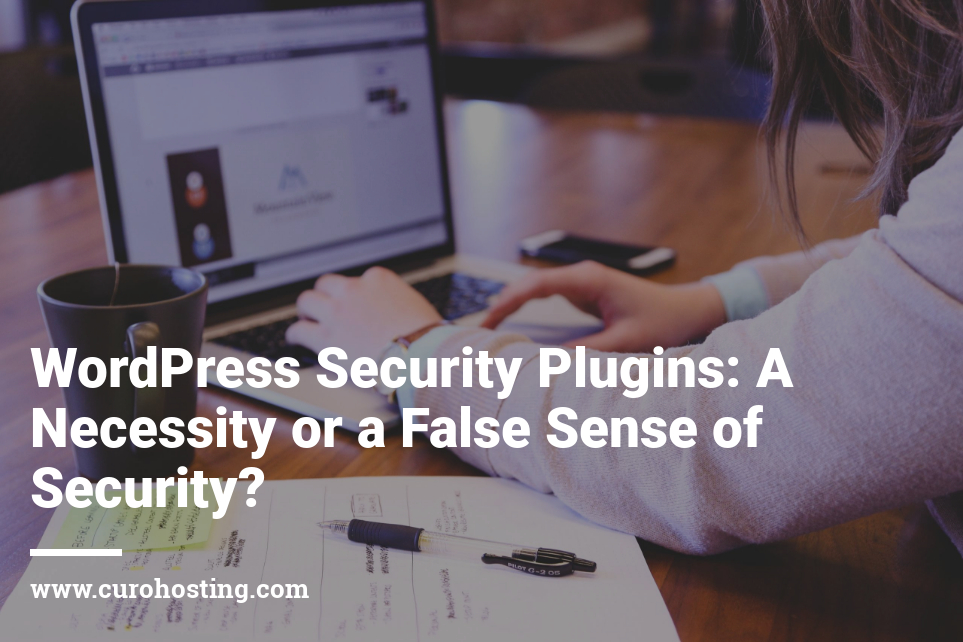 WordPress Security Plugins: A False Sense of Security or a Necessity?
Security plugins are common add-ons to WordPress sites that promise to protect against hacks and malicious attacks. The open source plugins offer services such as; malware scans, vulnerability detection and fixes, two-factor authentication and file change detection scans.
The majority of security plugins come with a free or premium version and can be purchased through WordPress itself.
Security plugins definitely have a place within WordPress sites. However, users need to be aware of their limitations. Security plugins are not an equal alternative to a secure web host!
CuroHosting de-hacks hundreds of WordPress sites a year. Often we find that the client has fallen victim to a hack despite having a security plugin installed.
4 Essential Facts About WordPress Security Plugins
1. Free vs Premium Versions
Most security plugins come in a free and premium (paid) version. The premium version usually offers all that the free version offers and more.
Installing a free version of a security plugin may seem like there is nothing to lose due to it being free of charge. However, free versions are often aimed at giving users a taste of the plugin but only enough so that they are forced to purchase the premium version in order to be properly protected.
Free versions often ask for a donation in order for them to continue to be free of charge.
The issue with a free security plugin is that if they were fully secure there would not be a paid version of the plugin which suggests free security plugins are not to be relied upon entirely. After all, many do not include basic security protections such as a firewall.
In addition, premium plugins only offer certain protection which begs the question: why pay for a select few features via a security plugin when you could pay for all the necessary features with a secure web host?
2. Security Vulnerabilities & Other Issues
The vast majority of plugins are updated regularly and if users don't update their security plugins they risk being hacked through a security vulnerability in the previous version. Security plugins require manual updates.
Security plugins can often cause security vulnerabilities because they are open source. This means that the quality of coding can vary dramatically making them a hacking target.
Furthermore, plugins do not update when WordPress updates. This often means they are incompatible following a WordPress update. This can cause glitches and conflict with other plugins. The same can be said for when security plugins stop being supported which is often the case.
Issues with security plugins can negatively affect website speed and uptime. It can also stop other plugins from working entirely, such as caching plugins.
3. High Level of Technical Ability is Required
Popular security plugins can help to protect WordPress sites but only if they are used properly.
The main danger that WordPress users face when using a good security plugin is that they do not have the level of technical ability that is necessary for the plugin to be understood and used correctly. It can be tempting for end users to enable every feature within the security plugin to, seemingly, further protect the website. Usually this is not the outcome.
Enabling the wrong settings can interfere with other plugins and cause your WordPress site downtime. It can also lead to your site having security vulnerabilities. Ultimately, end users without a high level of technical ability can do more harm than good.
In addition, security plugins often send security messages which give peace of mind to the average end user but in reality only a technician would fully understand these. This can lead to security vulnerabilities being missed.
4. Lack of Warranty or Guarantee
It is very rare that you will find a free or premium security plugin that offers you any form of warranty or guarantee.
If you are hacked while using a security plugin there is usually no warranty. Some plugins, however, may refund you. Although, this refund will likely not cover the cost of a de-hacking service let alone lost earnings.
Security plugins offer no guarantee that they will protect you from a hack. If a website is hacked it is the owner's responsibility to get it de-hacked. Additionally, they will usually have to go elsewhere for advice and support too.
There are several reasons why it is not a normality for security plugins to offer a warranty or guarantee. One of the main reasons is that they cannot protect against every form of attack. The majority of security plugins focus on brute force attacks and login protection.
Should Site Owners Stop Using WordPress Security Plugins?
Security plugins can be an asset to a WordPress website but only if they're used correctly and the limitations are understood. We highly recommend that WordPress users have a secure web hosting package in place as opposed to relying on security plugins. If you do choose to use a security plugin please make use of the following tips:
Remember to create strong passwords and hide your WordPress version.
In addition, stick to authentic plugins that has all your required features to avoid duplicating plugin features.
Remember to check WordPress forums regularly for updates and delete any unused or unsupported plugins.
Ultimately, security plugins cannot do the job of a secure web hosting service and the advantages that come with it such as SSL certificates, virus scans and advanced firewalls.
If you have been hacked, regardless of whether you have a security plugin or not, we offer a free de-hacking service to all WordPress users.