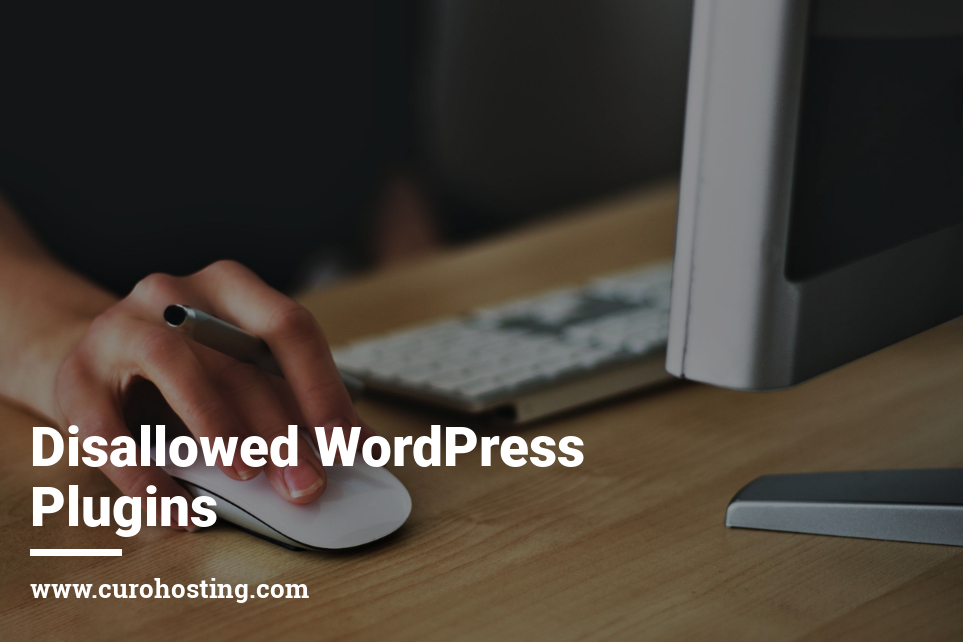 Disallowed WordPress Plugins: Why CuroHosting are Different to Competitors
A potential deciding factor for many WordPress users looking for a host is whether or not the host has a disallowed plugins list. There are both pros and cons for hosts blacklisting plugins. We have explored the topic for you to give you a quick guide on disallowed plugins.
What is a WordPress Plugin?
A plugin is a piece of software containing functions that can be added-on to a WordPress site. They are used because they extend and add new functionality.
Plugins are open source and written in PHP. This means that the code is made freely available and can be redistributed and modified by other developers.
With over 500, 000 free and paid plugins currently listed on WordPress  you can be sure to find a Plugin to address most needs, from the Woo commerce plugin for online shopping to Yoast, which is used to measure a site SEO and readability.
Why are Some Plugins Blacklisted?
Plugins can help to create a great WordPress site but they can also interfere with the running of one too.
Plugins need to be constantly updated due to the threat of security breaches. This means that they are taking up space on your site and quite possibly slowing it down for no benefit in return.
Many WordPress hosts will simply blacklist any plugin as a result of them interfering with their services and that is the end of the matter. However, CuroHosting are slightly different.
What Plugins are Disallowed?
There are hundreds of disallowed plugins, below are a select few examples:
Caching Plugins
– W3 Total Cache
– WP Super Cache
Backup Plugins
– WP DB Backup
– VersionPress
Performance Plugins
– Fuzzy SEO Booster
– Dynamic Related Posts
Security Plugins
– Clef
– Better WP Security
What is CuroWeb's Stance on Disallowed Plugins?
Most Managed WordPress hosts simply have a disallowed plugins list and that is their final say on the matter. CuroHosting take a slightly different approach.
At CuroHosting, we understand that plugins are a great resource and can greatly improve the usability of a WordPress site. Thus, we do not believe in simply blacklisting a plugin with no explanation or discussion with the client.
We don't believe in taking complete control of a customers site, we want to work with you not against you. Plugins are only blacklisted if they are insecure. If there are any other issues we will do our best to find a solution for the client instead.
We are always willing to demonstrate to our clients why these plugins are unnecessary as opposed to simply blacklisting them with no discussion.
How Can I Find Out if a Plugin I Want to Use is Disallowed?
Unlike most of our competitors, we don't have an automatic disallowed plugins list. We look at each situation on a case by case basis.
Wherever possible we will find a solution that avoids disallowing the plugin by manually investigating the plugins code on a client's site.
Therefore, the only plugins disallowed with CuroHosting are those that have known security vulnerabilities and they are disallowed due to the damage it can cause to a WordPress site. We strongly believe in doing what is best for our customers and protecting their website from malware and viruses so, plugins with security vulnerabilities are disallowed.
As a result, we will always do what is best for our clients' WordPress sites as well as what is most in line with their needs and wants. That does not include an automatic disallowed plugins list.
To find out any information about using a specific plugin when hosted by CuroHosting simply get in touch with us and one of our WordPress experts will answer all of your questions.