WHMCS Price Hike! Plus Revoking Support for Owned Licenses!
Recently WHMCS sent out an email detailing pricing changes. It seems greed is a big factor in the tech industry. And running a web hosting network becomes increasingly more difficult as more and more providers put up their prices. In 2019 CPanel did a similar thing going from a "per account" pricing model to a "per user" forcing a price increase of thousands of dollars per month for many companies.
*I do think CPanel backed this up very well, introducing a very high level of support. Although I feel this is becoming less and less helpful. #businessmodel
WHMCS is a great piece of software and I would argue there is nothing around that would match it, so in a sense they have a monopoly on billing software that integrates with CPanel and other systems. WHMCS is also a piece of software that you store all your client records and link in payment subscriptions and everything else, so it becomes very difficult to consider moving away from this system, so you are really forced to do what they say or strip your business completely back.
If you have a 1,000 customers with a payment profile, imagine how difficult of a task it would be to move all their data and have each of them start paying through a different system. You would lose a lot of business.
The Official Email
We are writing today to let you know about some changes to our pricing and licensing that will become effective on July 1, 2021.
Since 2017 we have continued our mission to automate and scale our customers' businesses, empowering them by delivering critical features and capabilities, and increasing the automation and efficiencies available to these operations. The growing extensibility of WHMCS means you have access to more products, services, and tooling; the continued expansion of the MarketConnect platform gives you instant access to resell services in a way that is convenient, seamless, fully automated, and streamlined.
Over the past 18 months, we have invested significantly in additional people and talent, with even more investment planned for 2021 and beyond. Our investment in the business is just one of the ways that will allow us to continue to deliver the market-leading automation platform for web hosting businesses and professionals.
We have big plans. We intend to lead the way in redefining how web hosting is bought and sold, including modernizing the end-user experience for traditional web hosting to better enable our customers and partners to compete in today's web hosting market. We will do this by delivering new user experiences, new workflows, and closer integration with existing products and services in the web hosting ecosystem.
We are excited to have you be part of this evolution with us. We hope you will continue to see the value that WHMCS delivers to your business and choose to leverage us as your partner in business automation.
Today, we are announcing changes to the price and tiers of licenses which includes the introduction of six new tiers for businesses with over 1,000 active customers.
Here is what is changing:
The Starter license will no longer be available for purchase. If you currently have a Starter license, we will upgrade you to a Plus license on July 1, 2021. Once upgraded to Plus, your

WHMCS

installation will no longer display the Powered by

WHMCS

notice.
The Plus license remains the same as today with a client limit of 250 and a monthly cost of $18.95.
The Professional tier will now have a monthly cost of $29.95 and a client limit of 500.
The first Business tier will have a client limit of up to 1,000 and be priced at $44.95. For those with more than 501 clients today, we will upgrade you to the appropriate Business tier on July 1, 2021.
All Business tier licenses include our Business License Support with Live Chat Technical Support and access to Priority Support.
Additional Business tiers are now available for licenses above 1,000 clients. The pricing for these new tiers is in the table below. To help provide further information and clarity, we've created a 2021 WHMCS Customer License Guide available at https://assets.whmcs.com/customer-licensing-guide-2021.pdf
Keep innovating, building, developing, designing, and hosting, and know that we continue to invest to improve everyone's WHMCS experience.
We understand you might have questions, and we invite you to reach out to our Customer Service team. You can contact Customer Service by opening a ticket at https://www.whmcs.com/submit-a-ticket
– The WHMCS Team
Price Change Summary
To summarise this long email, WHMCS will now be charging you more if you have a lot of clients.
*They don't actually mention what defines a client, you can have a client with no services if you are using the system as a part CRM, and you can have non active clients too. So what are they charging extra for?
Currently the pricing looks like this:-

So a standard price, paid each month. But soon, on July 1st, in less than 3 months, you will be subject to the new pricing model.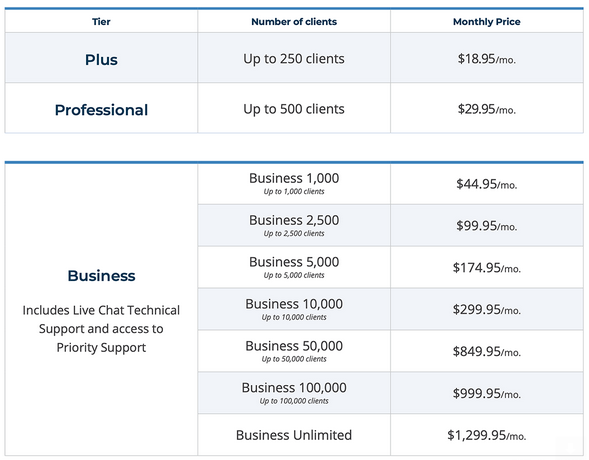 So what does this mean for you?
Well if you have a large number of users you need to find an additional $1,000.
And if you have very few customers, you can keep things at the standard price.
But it is just more pressure on hosting providers and actually this cost needs to be passed on to the end customer eventually, yes the price increase isn't huge and what you pay is relative to the size of your company, but when you consider this model for various other pieces of software it is just yet another blow to web hosting providers.
*I just hope that they execute the change like CPanel did, back it up with some new features in the software and improve their support!
It is going to require some administration work for sure, making sure every account in your WHMCS installation is valid and is paying to be there. And this task is made difficult by the lack of bulk updating functionality around "Clients" in WHMCS!
Owned Licenses Support Revoked!
I feel this is kicking a company when they are down but WHMCS also decided to send out the news at exactly the same time that owned licenses would now not be eligible for support!
In the earlier days of the software we paid for a "Lifetime License", "Owned License", sounds great at the time, but what they didn't tell us is that 3 years down the line we would be told "You can keep using the software, but you won't get any support or any updates" basically. Usually that is okay if we are talking about a basic plugin for WordPress, but not a large billing system that integrates with many different providers, it is only a matter of time that other providers update something that renders this "Owned Software" useless and broken.
This is outrageous! And yet another example of how big tech companies just call the shots and force your hand at things, there is no compromise either "effective immediately", how can we plan anything with "effective immediately"?
Owned License Support Revoked Email
Hello,
We are writing to you to let you know about important changes to owned licenses. Today we are discontinuing owned license support. What this means for you and your existing owned license is as follows:
Your

WHMCS

owned license will continue to function as it does today. You may continue to run your

WHMCS

installation using the owned license for as long as you would like.
You will not be able to purchase or renew support for your owned

WHMCS

license, effective immediately.
If you have an active support agreement with

WHMCS

for your owned license, we will continue to honor that support agreement until its expiration.
If you do not have support for your WHMCS owned license, and you require product support or you would like to upgrade to a current version, you will need to upgrade to our standard license model. You can obtain a standard license by logging into the WHMCS customer portal (https://www.whmcs.com/members).
Keep innovating, building, developing, designing, and hosting, and know that we continue to make investments to improve everyone's WHMCS experience.
If you require assistance with our standard license model and what license is best suited for you, we are here to help. You can contact Customer Service by opening a ticket at https://www.whmcs.com/submit-a-ticket
– The WHMCS Team
This is called "Software Abandonment"
Definitions of "abandoned" vary, but in general it is like any item that is abandoned – it is ignored by the owner, and as such product support and possibly copyright enforcement are also "abandoned".
It was bad enough if you "owned" your license and then they brought in semi annual payments for "support and updates" at $80 each. It is not a great feeling to be semi forced to pay for these "support and updates" but we did.
Now WHMCS are saying this is not even available, you MUST switch to their price increasing pricing structure otherwise you won't get any support or updates. And in doing so you must render the "owned license" useless. So what did we pay for? What do we own? It is ridiculous.
Is it viable to keep running on the owned license only?
Although WHMCS find some kind of loophole in software laws by saying "you can still use the software", "but you just can't have our updates" it is simply not viable to use your "owned license" anymore.
Firstly not updating software is going to cause a security problem, somewhere down the line you are going to run into problems.
Other software providers that WHMCS communicate with will be updating their software and eventually your "owned license" installation of this will break, this will take down your support system, take down the system that generates invoices and automates many server commands too.
So it's not worth the risk in my opinion.
So this "owned license" software that we have been left with is simply not fit for purpose anymore, it is now actually a hazard which we paid a lot of money for.
Summary
WHMCS have released a pricing model that will hurt your wallet relative to the number of clients you have, it is most likely going to cost you more, but it isn't going to break the bank.
But it is just another price increase that we have to deal with and it seems big tech companies have this long term business model where they get you onboard for little cost, get a large customer base, make themselves valuable to the business you create and then hike up the price.
You are effectively being forced but it is "okay" because they reserved this right in their terms and conditions they tell us.
I don't find this completely ethical, it seems software companies who have good lawyers can do what they want, and hosting providers must adapt their business accordingly, and the end user/customer eventually will see a price increase in their own products/services.